The Starting Line - Say it like you mean it (drive-thru records)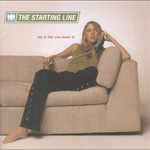 Pennsylvania's own The Starting Line are out to make a dent in the melodic punk/EMO scene. Sounding like Blink-182's bigger brothers (despite the fact that they're much younger) and a less heart-broken Jimmy Eat World surprisingly doesn't harm them. They're never going to change the world, but at least they've got a sackful of catchy songs. I'm not a big fan of this type of music, I generally like my guitars with more of an edge, but it does provide light relief from time to time.
From the opening strains of 'Up & go' you can't help but think - that's a good song. The same goes for 'A goodnight's sleep'. That's where The Starting Line should succeed where so many others have failed; they have good songs (lesson number one in the how to be in a band handbook). If Good Charlotte are that little bit too hard for you, then you'll love these guys. Lyrically, the bulk of the songs deal with that staple of the EMO diet - girls and break-ups.
'A goodnight's sleep' is structured around a refrain of "you can sleep in your own bed tonight/sleep away a silent pain that's out my name/you can sleep in your own bed tonight/I hope for your sake you don't wake up as broken as I am", while 'Almost there, going nowhere' includes the line, "Keep talking down to me/you're not only losing me, you're losing what's in store". Part of me keeps telling me that I should hate this band, but, like Sugarcult, there is something in their sun-drenched melodies and catchy tunes I can't quite shake. Go figure.
Ken McGrath