The Devlins - No More Waiting.
Al Peach gives us a Stateside view of an up-and-coming Irish band.
The Emerald Isle has produced some great music over the years - U2, Van Morrison, Thin Lizzy, and now, The Devlins. Who? The Devlins! Who the hell are The Devlins? Well, if you're a radio listener, you probably haven't heard much of anything from their latest album, "Waiting", because their music doesn't "fit" a particular format. As I recall, U2 didn't fit into a specific category either, but the world surely knows them now. Sooner or later, the world will know The Devlins too. It's just a matter of time.
The critics love The Devlins. The LA Times called "Waiting", "one of the best records of this year". The New York Post raved about their "remarkable songs of devastating, quiet beauty". Q Magazine says the disc is "Earth-shakingly important", and Billboard calls it "a classic".
So what is everyone "waiting" for?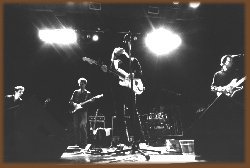 © Barry Gunning. All rights Reserved

The Devlins are the cherub-faced Colin Devlin on vocals and left-handed guitar, older brother Peter Devlin on bass and various sampling gizmos, and 'Mr. Steady', Sean Devitt on drums. During an interview at Boston's Fleet Center, Colin told me that the brothers never really played music together as kids. Peter was always playing in other bands, while Colin, attending college at the age of 17, began learning guitar and writing songs. The songs got more extraordinary as did his guitar playing and, pretty soon, Colin was playing in his brother's bands. Colin took a year off from school to write songs and never went back. The boys made a demo tape that was engineered by a certain Sean Devitt. They were using a drum machine for the tracks and really didn't like the sound, when Devitt announced that he was a drummer and could play on the tracks, and The Devlins were born.

I asked Colin if growing up in a "war zone" had an effect on his music. Though he grew up in Northern Ireland, the Devlin family moved south to Dublin when he was 9 or 10. Colin told me that, though still affected by the violence, he's always tried to keep politics out of his music, and write about the "bigger picture" and the love of humanity instead.

1993 saw the release of The Devlins' first album, "Drift", which critics seemed to like, but the record-buying audience were never really exposed to. They did, however, manage to get on a tour with Sara McLaughlin, where they met producer Pierre Marchand, who was intrigued by their sound and offered to produce their next album. ELO wiz, Jeff Lynne, also offered to produce the album, but Colin was afraid Lynne would put his 'stamp' on their music, as he did with the Traveling Wilburys. The Devlins wanted to keep their original sound intact, so they chose Marchand instead, and in 1997 the band traveled to Montreal, where they worked on "Waiting" at Marchand's Wildsky Studio for six months. Marchand didn't want to change a thing, only enhancing the music by including simple piano riffs to create space and add a bit of dark mystery to the project. Marchand and the band agreed that less is more.

The music can only be described as 'something within'. There's a certain dark, spacey quality to their sound, reminiscent of early U2, Prefab Sprout, or even Pink Floyd, with breathy, soothing vocals and comforting lyrics that provide a ray of hope amid the darkness. "Waiting" is an appropriate title for the disc, because time seems to be a common thread, as do elements of love, loss, forgiveness, sacrifice, hope and beliefs. I asked Colin if there were religious undertones in the first single "Heaven's Wall", and he said it was more tongue-in-cheek than anything else and dealt with the coming millennium.
He said he got the line, "When the real rains come, we can be as one" from the movie "Taxi Driver", when the DeNiro character prophesies that the "real rains will come and wash away the scum on the streets". I suggested that maybe he should remix the song with more of a dance beat and put it out in late 1999, so that people will have more to dance to on New Year's Eve than that Prince track!
I also asked Colin for clarification of the meaning of "Kill With Me Tonight", which on the surface, seems to deal with euthanasia or a suicide pact. The line "Could you do it for me, could you be that strong" certainly sounds that way, but he says it's about an all-consuming love - being so much in love, that you could kill for somebody.
The stand-out track on the disc is "Surrender", which features an Edge-style guitar and driving bass line over a 90's beat. Coincidentally, it will be the next American single, while the title song, "Waiting", will be the next European single. The band plans to travel to Paris during a 5-day break in their current tour, opening for Tori Amos, to film videos for both songs. Together with the Paula Cole tour and the Tori Amos tour, the boys will have been on the road for a year and a half.
You could say they haven't been just "waiting" around, and their hard work has produced a flawless live show that has stunned audiences in Europe and now the States. Especially effective live is "Waiting", which begins with Colin strumming an acoustic guitar a la Neil Young and then stopping in the middle, while he nonchalantly puts down his acoustic, picks up his Strat, and then jump-starts the song again, making you "wait" all the while. A real showstopper!
Finishing up, I asked if the band will keep us "waiting" 4 or 5 more years for the next record and Colin said they'd begin working on it in the spring, with a tentative January 1999 release date. Until then, what are you "waiting" for?
Al Peach has written for various music publications such as CD Review, Instant Magazine, Seacoast Times, The Irregular, The Boston Globe, and New England Performer.