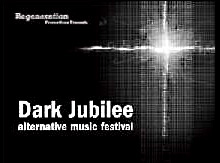 VNV Nation
Das Ich
Icon of Coil
Crüxshadows
Theatre of Tragedy
Void Construct
Karl Doyle
(Regeneration Promotions)
While much of London went mad waving flags and "enjoying" two free concerts of classical and rock dinosaurs mixed with pop bubblegum, a select few enjoyed the first of what is likely to become the UK's most prominent Goth-related festival in years to come. I say Goth-related because most of the music on offer was more in the electronic/futurepop vein than your average trad Goth would like. As a result, the cyber crowd was out in force in rubber and hair extensions, with many pulling off bodily contortions to fit into the most unlikely outfits.
The line-up had been the subject of major controversy in the run up to the event, with Seabound pulling out early, question marks raised about Das Ich and Icon of Coil turning up and Haujobb and Melotron pulling out within days of it going ahead, leading to a major reshuffle of the running order. However, it was all set by Sunday morning and the promoters made every effort to keep people informed with flyers and posters with the times of each act to be found all over the venue.
by Girl the Bourgeois Individualist